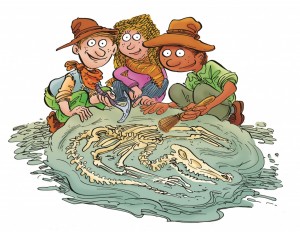 Fossils can tell us about the living things that inhabited the Earth before our lifetimes. They provide evidence of plants, animals and habitats that existed millions of years ago and have been preserved by natural processes. You are more likely to find fossils formed from hard parts of animals, like bones or shells. However, scientists have also discovered that under very special conditions fossils can form from other, softer things, like plants, dung – even dinosaur footprints.
Geologists can tell the age of a fossil because of the type of rock they were found in and so can build a picture of what life was like at different times in the past.
Fossils come into the Year 6 'Evolution and Inheritance' module to teach that:
Living things have changed over time
Fossils provide information on what life there was millions of years ago
Activities
| | |
| --- | --- |
| Fun with jelly while learning how scientists date fossils and the process of fossilisation | Fossils Jelly activity |
Here is an educational video for Year 6 learning about fossils:

Another way to interest children in fossils could be to tell the life story of Mary Anning.
Mary Anning was a paleontologist. She found the fossils of prehistoric animals. When Mary was a child, she would go fossil hunting around Lyme Regis and she helped change the way people thought about the world.
Mary Anning Fossil Hunter

Books for children about Mary Anning: 'Remarkable creatures' or 'The fossil girl'